IFBB Fitness Pro Darrian Borello is Olympia Bound!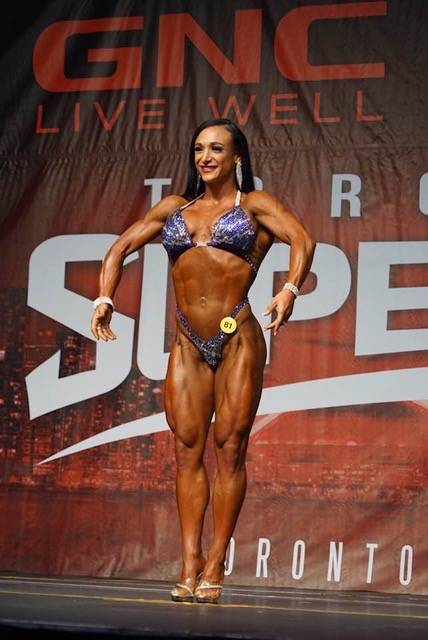 Read the first interview since returning home after her IFBB Toronto Pro Victory!
Matt Meinrod
Congratulations on winning this weekend's IFBB Toronto Pro! How did it feel and has it started to sink in yet that you'll be making your Olympia debut this September?
Darrian Borello
It was so crazy. I went into this show like every show I've ever done. I wanted to bring my best package and really entertain the crowd and judges with my routine. Finally, after years of improvements and dedication, it was finally enough to take home a win and get me to the Olympia. I don't think it has sunk in quite yet—that Olympia stage has just always been something I've dreamt about.
Matt Meinrod
Looking back to when you turned pro in 2012, was vying for titles and eventually hitting the Olympia stage something you had your sights set on or was being a pro enough to hold your hat on?
Darrian Borello
When I first turned pro, I was 21. I was naive and somewhat blinded by the "IFBB PRO" title. I thought the Olympia was going to be something I would accomplish next. It wasn't until I started competing at the Pro level that I realized I had to find a whole new level within myself if I ever wanted to reach that stage. I am more competitive with myself than others. The main reason the sport of bodybuilding appealed so much to me was I truly felt my hard work would be directly correlated to how I would look on stage. So, my inner competitive drive has really pushed me throughout the last 6 years.
Matt Meinrod
Fitness is probably considered the toughest division to prep and compete in within the entire bodybuilding industry. You're judged on both physique and performance routine. When you're in prep, how much mental focus is put towards your physique work vs. your mastering your routine? Does one get more attention than the other?
Darrian Borello
In an off-season, when I'm working on a 5-day split I do 3 days of traditional bodybuilding training, isolating body parts, and 2 days of fitness/gymnastics training. As I get closer to a show, I do 3 days a week of fitness/gymnastics training, and 3 days a week of bodybuilding training. I also do some weird forms of cardio. I will do 30 minutes of HIIT intervals, but instead of squat jumps and jumping jacks, I do things like back flips and aerials. Having the endurance and stamina for the skills in the routine is truly the key to being able to provide the high level of entertainment a great fitness routine requires.
Matt Meinrod
What is the hydration and feeding process like from prejudging to the night routine? Is cramping while performing ever a concern?
Darrian Borello
Like most show days, those final hours are crucial. After prejudging, the mindset and goal switches from pure aesthetic to functional athleticism. Water actually stays relatively low for me, we choose to hydrate my body with Pedialyte so we are also supplementing carbs. Cramping is definitely always in the back of my mind.
Matt Meinrod
What kind of diet do you follow during your prep? Would you mind sharing how the structure works?
Darrian Borello
Up until about 6 weeks out I follow a diet consisting of moderate carbs and protein with fat on the lower end. Nothing drastic; we don't like to pull my calories low too soon in fear of jeopardizing any muscle. Around the 6 week mark we move into a carb cycle, consisting of low, medium, and high carb days. I also make sure my leg days are on a high carb day. I weirdly like to do my routine training on low days. It gives me a lot of confidence if I know I can perform my routine with barely any carbs.  
Matt Meinrod
How much do nerves and anxiety play a role for you as a pro? Is this business as usual for you or do you still get nervous?
Darrian Borello
I get nerves and anxiety like a crazy person. I even actually get nervous just to practice my routine. I have this habit where I start to talk and ramble before my performance workouts or back stage. I try to do a lot of positive talk, mental imagery, and hype myself up. I may look calm as a cucumber, but it's all in how I've learned to channel my adrenaline.
Matt Meinrod
When I look back at the fitness division over the years there have been many great athletes enter the sport, but none more impactful than Oksana Grishina. As a fellow competitor, what can you take from her career and apply it to your own?
Darrian Borello
Oksana really showed that each fitness competitor has the ability to mold this division to what their personal strengths are. Above all else, she was an entertainer, with amazing strength, grace, and poise. She was no gymnast or cheerleader. But she captivated and dominated with what her strengths were. That is one of my favorite parts of the fitness division; each competitor has a chance to really show a side of themselves outside their bikini and heels.
Matt Meinrod
What should fans expect to see when they go watch Darrian Borello compete? What makes you one of the best in the world?
Darrian Borello
I don't stop. I will keep you on the edge of your seat and excited from the moment I start moving until the routine is done. You can expect to be out of breath just watching me. If you were entertained, wow'd, and slightly nervous—I did my job.
Matt Meinrod
I take it you won't be back on stage until the Olympia? What will the next 15 weeks look like for you since you're already in shape from the Toronto Pro? Will you try to change anything or ride this look all the way in? What's the plan?
Darrian Borello
We are going to back up a bit on the cardio, and go back to consistent macronutrients ending my current carb cycle. But overall, this is 15 weeks to push harder than ever to be better than ever. I have never been more motivated to get to work and make improvements and show people I belong on the Olympia stage. So, I will bring routine practice back a bit to two days a week, but keep the focus on endurance and stamina so I can bring an even higher energy level. I will work on some overall details in my physique, also looking to keep making it a bit tighter and just a cleaner package.
Matt Meinrod
You're recently married and now headed to the biggest competition in the world this September. Any connection there?  
Darrian Borello
HUGE CONNECTION—Marriage, and my husband in general, has really helped shaped me into the woman I truly believe I was meant to be. My priorities, time management, self- awareness, and overall mental and physical well-being has never been better, and I have my husband to thank for that.
---